IN STOCK
VCA based on vintage soviet germanium transistors ГТ-402.
10HP
The device has feedback loop which is normaled to IN2 jack, so IN2 pot controls feedback amount when nothing feed into IN2 jack and feedback switch is on. When jack feed into IN2, IN2/FEEDB pot controls IN2 level. Distortion/clean switch controls two modes with more or less distortion which amount can be trimmed with trimpots through holes at panel. Drive/IN1 pot controls IN1 level. GAIN pot controls gain offset. CV pot controls gain CV level.
Power consumption: V+ 12mA, V- 25mA.
PCB - 2mm thickness, gold platted, black mask. $25
Two panels - 10HP front & back. Anodized alu, black print. $25
SMD parts + soldering. $10
Shipping per set: $5 - only board, $8 - board+panels.
TOTAL for complete set with shipping: $68
Paypal: info(at)greenexpo.by
Assembled module $210 + $10 shipping.
Modulargrid: https://www.modulargrid.net/e/l-1-germanium-vca
SAMPLES:
KIT: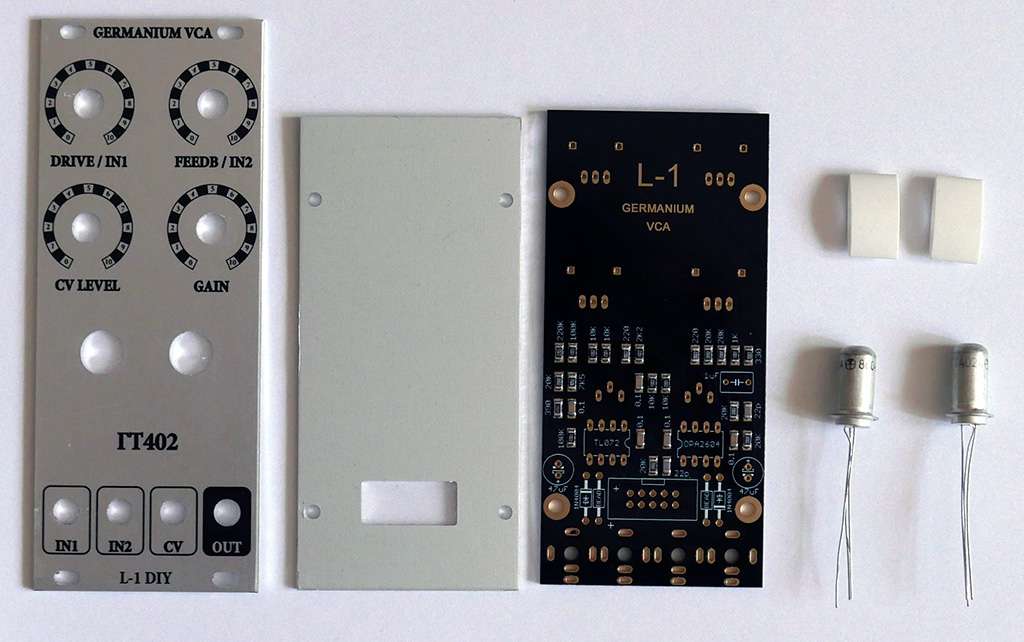 DOCUMENTS

Partlist.
PICTURES